Frequently Asked Questions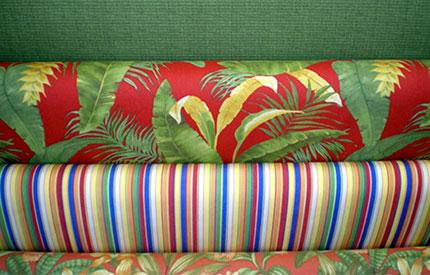 Q: Why are your prices so much less than designer prices for the same fabrics?
A: Because Palm Beach Fabrics buys directly from the mills that manufacture the fabrics rather than a middleman. Quite often these are the same fabrics you find with designer names but without the premium cost.
Q: What do you mean by first and second quality fabrics?
A: We never carry seconds at Palm Beach Fabrics. Second quality fabrics have numerous imperfections either in the look of the fabric or the actual quality of the fabric itself. We have built our reputation on carrying only first quality fabrics.
Q: How do I know how much fabric I need to reupholster my sofa?
A: We have an upholstery chart which gives yardage for most upholstered items like sofas, love seats, chairs and ottomans. However, many people are now emailing us photos with measurements, which allows us to give precise yardage requirements as well as labor estimates.
Q: How do I know how much fabric I need for my draperies?
A: Once you select your fabric and style of window treatment, bring in rough measurements, which will allow us to figure the yardage for your draperies. A professional measure is usually done prior to fabricating most window treatments.
Q: What if I need help choosing fabrics or styles for window treatments?
A: We have several window treatment books in the store showing numerous styles. If you bring in colors from the room we will assist you in choosing fabrics. However if you feel you need more assistance then we can provide in the store we have an available in-home decorating service. The decorator will come to your home and help design window treatments as well as coordinate other items such as upholstered pieces and accessories.
Q: What types of window treatments do you make?
A: From simple side panels and full functioning draperies to elaborate swags and jabots, Palm Beach Fabrics offers a wide variety of window treatments. They include cornices, valances of all types and fabric shades to name a few.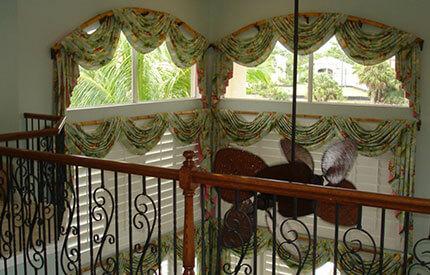 Q: What kinds of bedding does Palm Beach Fabrics make?
A: We make all types of bedding including quilted coverlets and bedspreads, duvet covers, shams and bedskirts.
Q: What if I can't bring my large upholstered pieces to the store when I'm ready to have them reupholstered?
A: We have a complimentary pick-up and delivery for large upholstered items. Once you choose your fabric and place your order we will schedule a pick-up day and time and do the same once the item is ready to be delivered back to you.
Q: How long does it take to get custom reupholstery, window treatments, or bedding?
A: Although it can vary, most orders take 4-6 weeks to complete. Small items like removable dining room seats or simple pillows can usually be "rushed" and take a much shorter time.
Q: I need a window seat cushion—can you make that?
A: Yes we can make any cushions for window seats and chairs or even replace old worn out cushions. We'll need measurements if there are no existing cushions or bring in your old cushion and we can use that as a pattern.
Q: My patio furniture has seen better days. Can Palm Beach Fabrics help me with that?
A: Yes we carry an extensive selection of outdoor fabrics including Sunbrella. We can make new cushions or recover your existing outdoor cushions.
Q: I understand you have a custom furniture line—how does that work?
A: Palm Beach Fabrics offers a high quality custom furniture line made in North Carolina. You pick your frame style and fabric and your piece is custom made for you in 6-8 weeks. When your order is complete, your furniture can be delivered directly to your home.